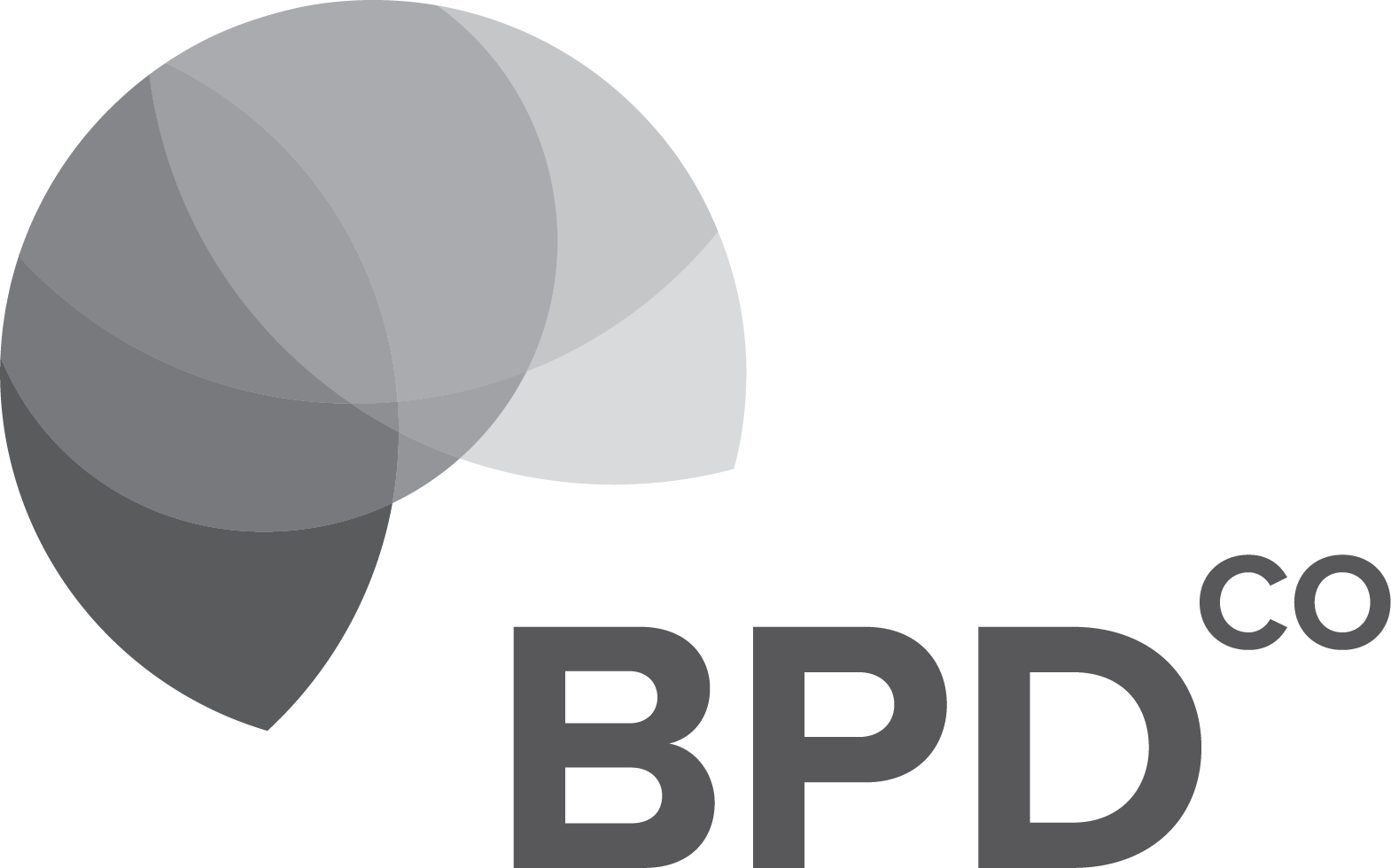 News and events for BPD Collaborative
BPD Awareness Week 2023
Sunday 1 to Saturday 7 October 2023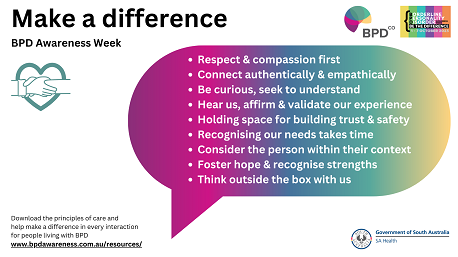 The 2023 BPD Awareness Week national campaign is titled: Be the Difference: Principles of Care. Designed to demystify treatment for Borderline Personality Disorder (BPD). Six Core principles have been drawn from the common factors of 'what works' in effective therapies. For more info, new resources and events see www.bpdawareness.com.au/
Event: Thursday, 05 October 2023 - 6:30-8:00pm
Be the Practitioner with a Difference - 'Principles of Care'
BPD Co are hosting a free online event for clinicians interested in discovering more about BPD, and what supports a person to reach out/stay engaged in treatment. A panel will share the perspectives of people with lived experience, carers and clinicians. Our lived experience 2023 BPD Awareness Week Working Group have also prepared an open letter to practitioners and a screen saver summarising the messages that people with lived experience would like practitioners to know.
Register via MHPN https://www.mhpn.org.au/members#/Meeting/24257
Event: Wednesday, 11 October 2023 — 10:00-11:30am
'Hack your Stress Response'
BPD Co are hosting a free webinar for people with a lived experience of BPD and their family and friends which introduces polyvagal theory and how to move from 'fight & flight' to 'rest & digest'. The session will include the role of self-compassion, and calming practice.
Register: https://www.eventbrite.com/cc/peer-group-programs-1794539
---
BPD
Co. present at the Project AIR
16th International Conference on the Treatment of Personality Disorders
Dianna Bartsch (Research Coordinator) and Laura Cooke-O'connor (Advanced Clinician) had the pleasure of presenting at the 16th International Conference on the Treatment of Personality Disorders, in Wollongong, New South Wales on the 4th November 2022.
The two-day conference hosted by our colleagues at Project AIR, comprised of a program of presentations including lived experience consumer and carer perspectives, explorations of neurodevelopment, trauma, assessment of personality traits, and attachment informed intervention. International speaker, Professor Anthony Ruocco (Canada) provided fascinating insights into clinical, personality, and neurodevelopmental factors associated with BPD.
BPD co presented preliminary findings from the evaluation of the Road Maps short-term group therapy for adults with a diagnosis of BPD. The evaluation is ongoing, and we look forward to providing more details about it in the new year.
Thank you to our colleagues at Project AIR for hosting us.
BPD Creative Wellbeing Calendar and Zine

The BPD Awareness Week 2021 working group invited people with lived experience of Borderline Personality Disorder (BPD), carers and trusted others to submit images of creative activities they engage in to contribute to a wellbeing calendar.
BPD Collaborative proudly presents the 2022-2023 BPD Creative Wellbeing calendar, which showcases creative activities that our subscribers have found helpful in supporting their wellbeing. The calendar includes information about BPD, Discover Creative Wellbeing, the BPD Awareness Week 2021 theme, and useful contacts in Australia.
Additionally, our Creative Wellbeing Zine expands on the Discover Creative Wellbeing theme and calendar content. The Zine showcases creative examples of subscriber work and articles of interest, along with providing useful tips, ideas and resources to help get you started.
Flipping the Script podcast
In 2020 BPD Co and headspace Adelaide were proud to introduce a podcast called Flipping the Script, Changing the Narrative on BPD.
During BPD Awareness Week 2020, BPD Co were pleased to collaborate with headspace Adelaide to capture Sam's experience of BPD on podcast. Sam talks about stigma, seeking help and 'flipping the script' to identify those positives associated with the diagnosis. Thanks to Sam for sharing her valuable experiences, we are confident that her story will bring comfort, clarity and inspiration to other young people!
Listen to Sam's Podcast on Soundcloud.
Newsletters
BPD Co's 'Lived Experience Update' shares our latest news, together with updates and opportunities from relevant programs and services for people living with BPD, carers, and professional supporters.
Lived Experience Update earlier editions:
To keep up to date with BPD Co news and events subscribe to our newsletter.