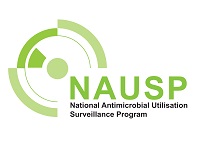 The National Antimicrobial Utilisation Surveillance Program (NAUSP) was established in 2004 to monitor the consumption of antimicrobials in Australian public and private hospitals.
Antimicrobial use is a key driver of antimicrobial resistance and surveillance of antimicrobial usage is a key component of antimicrobial stewardship (AMS) and supports strategies to help prevent antimicrobial resistance. AMS aims to decrease the risk of resistance emerging and reduce the risk of multi-drug resistant infections.
NAUSP provides timely information on usage trends to identify overprescribing or unexpected changes in prescribing in your hospital.
NAUSP is a tool to evaluate effectiveness of AMS interventions in your hospital
reduces costs within your hospital associated with multi-drug resistant infections
participation in NAUSP

is free

NAUSP

complements other AMS strategies

participation in NAUSP will assist your hospital in meeting the requirements for accreditation